Like any fashionista, I look forward to all award shows. Many people however over look some of the fashion choices made at any of the country music award shows. I however love all award shows and would like to present some of countries finest and fiercest dressers with best and worst dressed awards.
Starting with Carrie Underwood, I love her voice but bless her heart some of her dresses just are not memorable for good reasons, such as this one. After her floral creation at the CMA's this dress is a floral miss. Maybe if she were to wear it without the bridal sash like the runway version by Naeem Khan, it would have been more of a hit. I wish she would dress more like she does on stage.
Shania Twain finally is back on the country music scene after her battle with stage fright, but her appearance at the ACM's gave me a fashion fright. It reminded me of her mid 90's music videos, and was just not appropriate for an award show even though she was not up for an award. Thigh high boots in spring? By the way whose bed have your boots been under? Not something I would ever suggest. In closing Shania, that don't impress me much.
My third worst dressed of the night was Sheryl Crow. I love everything about this woman and how courageous she is and how she has Missouri Pride. I am glad one of the country music women also decided to take a risk and go with a jumpsuit instead of the typical gown or cocktail dress. However, this look is just not my favorite, she is a gorgeous woman as all of them are and has a killer body, I just think this look is not right for her or the evening.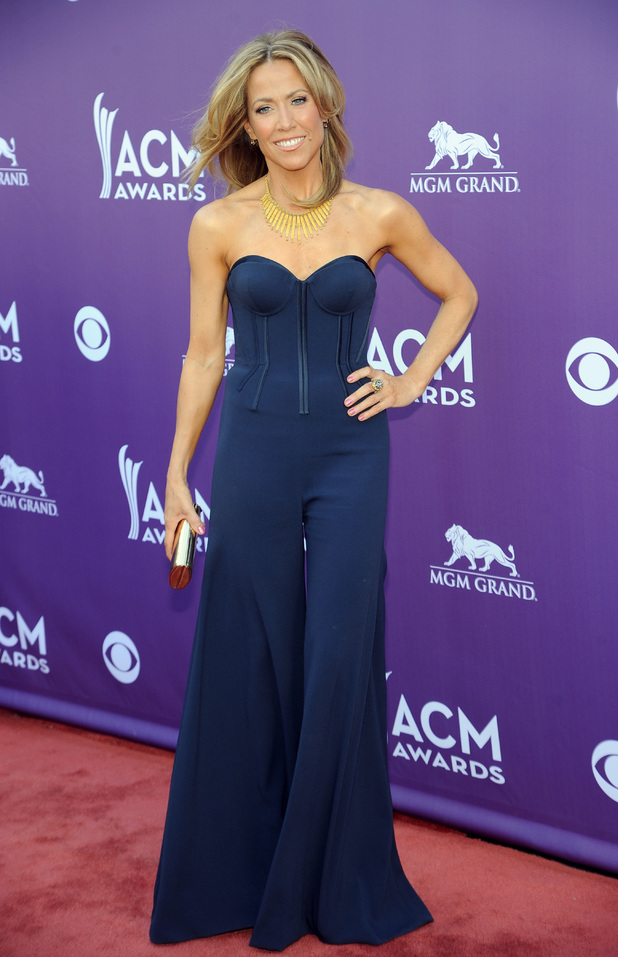 Jewel, thank you for remembering it is Spring! She looked stunning in this Georges Chakra spring 2012 couture. Easy hair and makeup looking effortlessly pretty! *claps for you!*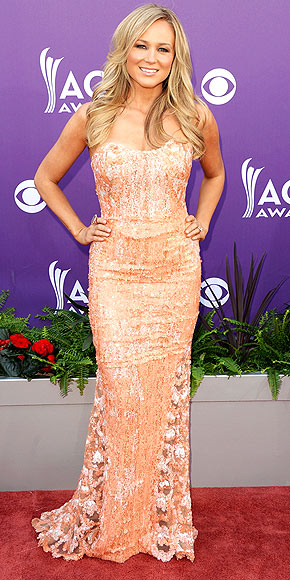 Kacey Musgraves, you may be fairly new to the celeb and music scene but you are hitting high notes! I am so glad to see a young girl having fun with fashion while staying classic! This white Alice + Olivia dress is a breath of fresh air! Simply divine! Love!
Kimberly Perry, second favorite white dress of the evening, interesting cutout and always love her beachy country hair! In fact the entire Perry crew looked quite nice!
Finally the moment we have all been waiting for... Just Kidding! My best dressed list and my winner for the best dressed of the night!
Kicking off my best dressed list, Thompson Squares, Shawna Thompson! Yes, her look was dark and not at all spring, but I loved it, very black swan meets 30's movie star! LOVE!
Ending with the battle of the

GOLD

.
My homegirl, Jana Kramer kicking some major fashion butt is second best dressed in my opinion. I wrestled back and forth on who I would choose as my best dressed and she missed it by a hair. Beautiful glowing skin, no accessories (other than her gorgeous new engagement ring) and cute but sleek high pony, Jana hit all the right notes off and on stage in this beautiful dress by, Badgley Mischka fall 2013 look. *mwah* so perfect!
FINALLY BEST DRESSED AWARD. Drum roll please!
Taylor Swift rocking the beautiful gold Dolce & Gabbana gown, Jimmy Choo shoes, Norman Silverman earrings, and Le Vian ring. I loved her nude and natural face with her fringed bangs out and blonde locks slicked back. Stunning, girl looked amazeballs.
Check back Thursday for my next post!!